old view
Vintage hangers with characteristically wood grain and handmade surface for making the perfect use-look.
More information
X
old view
Retro hangers, which are worn through age, but nevertheless of high quality, because handmade piece by piece with a lot of manpower. Grinding marks, woodworm optics, handpicked woods and old wires which are processed to metal part and laser print after staining the hangers distinguishes this handmade series.
Also the trouser bar made of solid wood is fixed by hand with metal pins at the hanger.
Directing traces of use and wear we made to our credo here.
Do you plan a relaunch of the good old days?
In this case you can awake unexpected desires of the public for your products.
Your team of pieperhangers is pleased to advice you in details.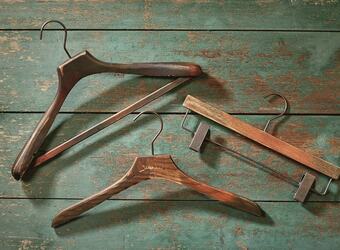 Vintage Premium Series
sample request