Hanger Scout
We are pleased to advice you personally and individually. For basic questions there is our Hanger Scout with a lot of knowledge available.
I. Anti-slip protection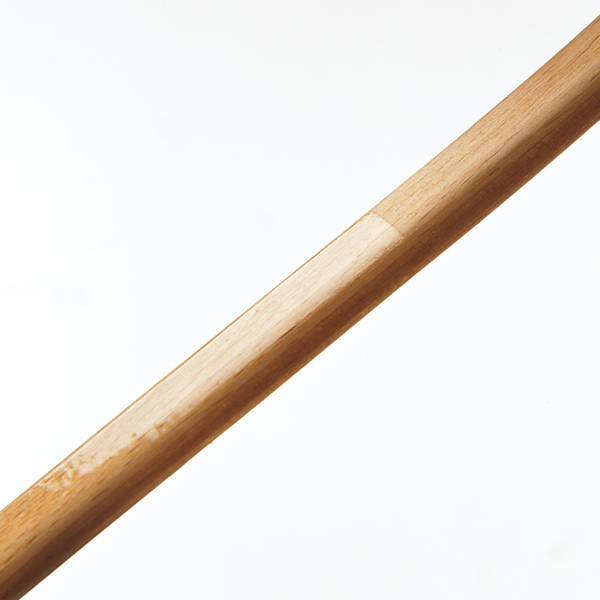 non-slip coating – traditional but absolutely proven and almost invisible
Before delivery we are painting the ends of wooden or plastic hangers with a transparent coating.
This coating is similar to a varnish, which is applied by two workflows
(Primer and non-slip coating) on the end of the hangers by an airbrush.
Length of the coating varies, on average it is 8cm long.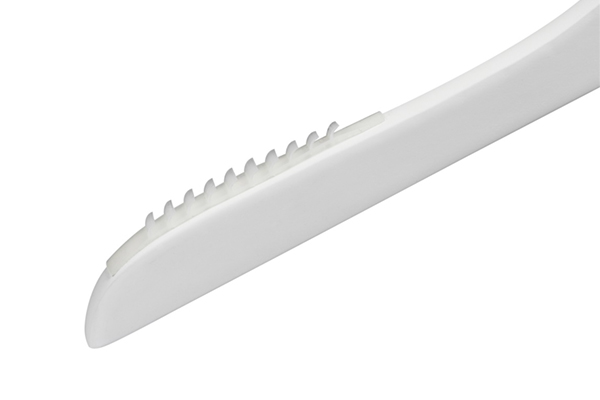 lamella – quickly and effectively
A self-stick stripe (dimensions 9x1cm) made of a soft silicone material in 3M quality, which will be sticked on the ends of hangers by yourself.
The single lamella holds the clothes tight. For example there is a very good effect for hanging spaghetti straps.
Because of the very soft material you can even use it for silk- or cashmere clothing.
The handling of the stripes is easy. You can use it to upgrade your existing hangers.
For one hanger two lamella are needed. Available colours are transparent
and black.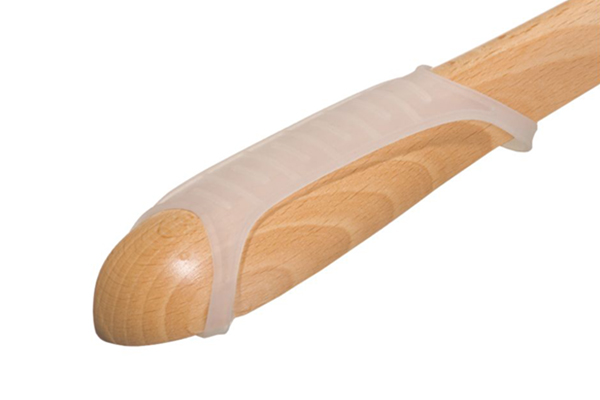 Slip-Stop - the flexible classic
Rubber stripes for mounting on the ends of hanger without sticking.
With pieperhangers you can choose between two sizes for different width of hangers. Shirt- and allround hanger with thickness of about 25mm and for
jacket-, blazer and coat- hanger up to a shoulder width of 45mm. Can be removed without any residues from all hangers. For one hangers two Slip-Stop are needed.
Available colours are transparent and black.


perfect for wide shoulders

II. Labeling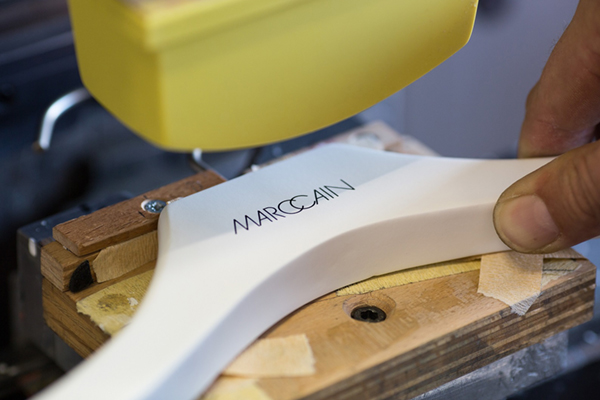 pad-printing - the favourite
Your logo, brand or lettering will be applied to the hanger with paint.
Most of the printings are one coloured, but also two-, three- or four-color
printings are possible. Besides to the standard range of black, white, silver and anthracite you can choose between various RAL and Pantone colors as well.
For printing your logo there is die plate needed, which we create according to your digital template.
The price for a one-color printing plate is 75,00 EUR per logo and size of printing.
By reordering with the same print layout there are no renewed costs for a die plate. You only have to pay the agreed printing cost per hanger. After printing,
the plate will be stored here and is available at any time for further use.
Please let us have your artwork by mail as vector graphics. Besides the manageable costs there is a short-time realization for tight deadlines possible.
Items on stock can be shipped within 10-12 workdays.
That speaks for itself: 90 % of our goods leaves the factory printed.

available from 0,29EUR/pcs


delivery time about 10 days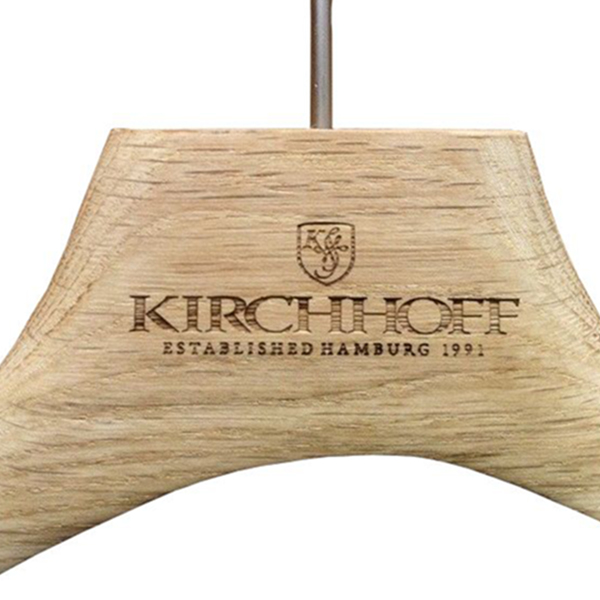 Laserprinting - in touch with the latest trends
Your logo will be burned into the surface of the hanger that deep,
that the depression is not only visible but also touchable.
The laser process is very often used on untreated (raw) hangers, whereby the print appears brown/black in color then, so as "branded". As a particularly valuable version the logo is lasered into an untreated hanger in the first step and in the second step the hanger will be stained or painted in the desired color. With this tone-on-tone solution, the logo discreetly stays in the backround.
Even lettering with particularly fine lines and contours can be represented very well.
The programming costs for the laserprint vary depending on the printed image
between 130,00 - 150,00 Euro and are charged at each order.
Again, sending stock items within about 10-14 working days after placing the order is possible.


exact contour representation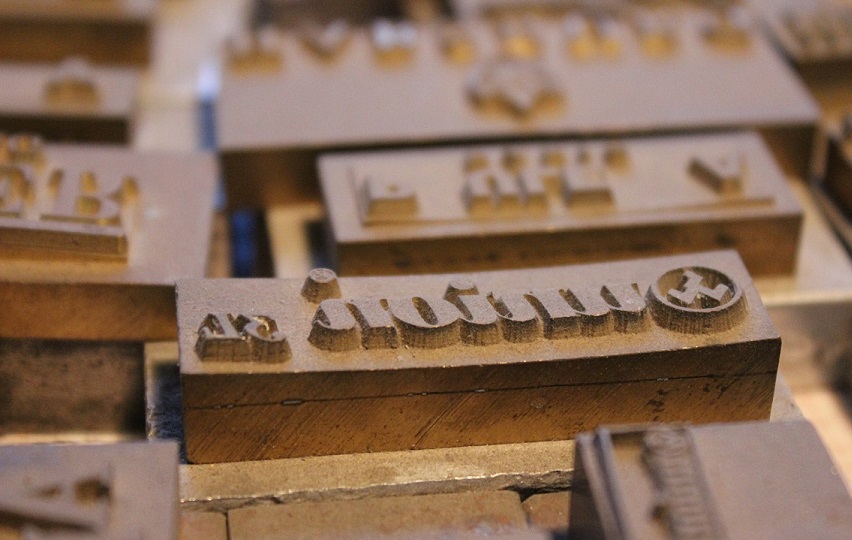 Embossing
This printing process uses a custom made brass stamp to emboss your logo in the hanger. An embossing with a gold or silver foil creates a very high-quality gloss effect which can not be achieved with any other printing method. Not every model and label
is suitable for embossing. Let us advise you.


traditional ambossing technique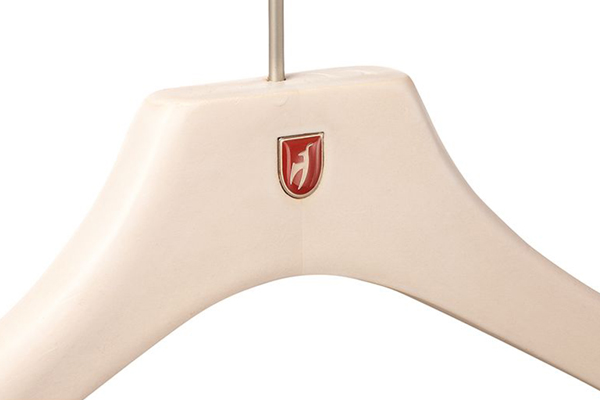 Badge
We are producing a metal or plastic badge according to your specifications.
This badge is glued or screwed directly on the hanger. There is also the option
to place the badge in a depression which has been lasered out previously. This makes this form of branding even more exclusive. A minimum of 1.000 parts is required.
Let us advise you.

large variety of materials


III. Surfaces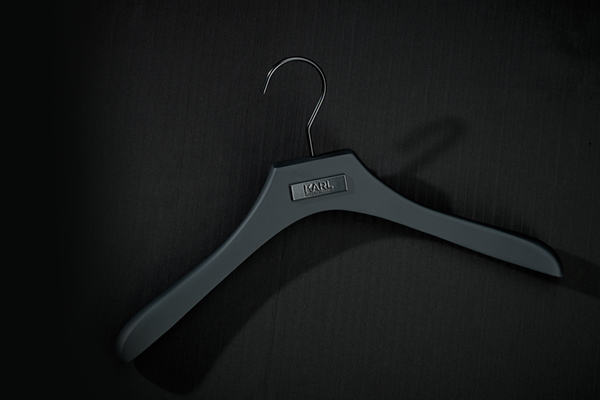 Soft-Touch
A velvety and non-slip surface will be applied on the whole hanger. Very
pleasant feeling and a striking deep, matt black look, distinguishing this surface.
Ideal for silk, underwear and fine technical textile materials.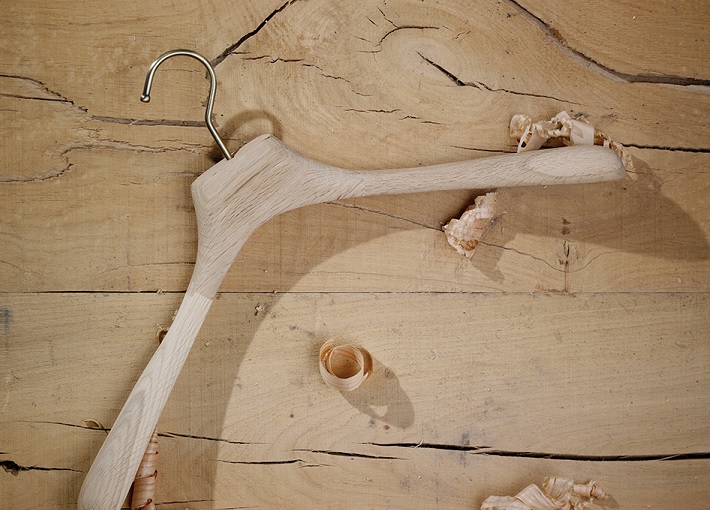 untreated wood
Authentic natural look by use of untreated materials. Fine, multiple intensively sanded surface. Because the wood can be sanded absolutely smooth, textiles
can be hung without pulling strings. High quality woods like oak and ash are looking especially natural. This surface is more sensitive to environmental influences and natural signs of wear as natural painted hangers. But often this effect is also desired.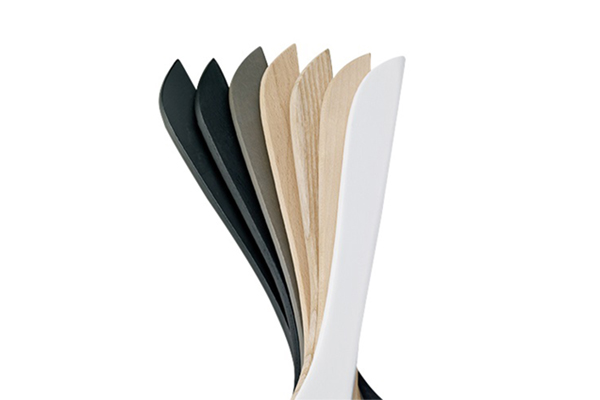 staining
A painting application in which the structure of the wood is specially worked out.
A second working step with a matt, transparent protective lacquer closes
this process. The wood species beech, which has a weak structure, does not
reach the same intense effect as oak and ash wood. Vintage and shabby surfaces can be stained with multi-graduated colors for having very exclusive unique items.
White or gray stain we can be applied in different doses of stain.
Thus a wide field of possibilities arises how much of the basic wood should still
be visible.



individual special stains
IV. Equipment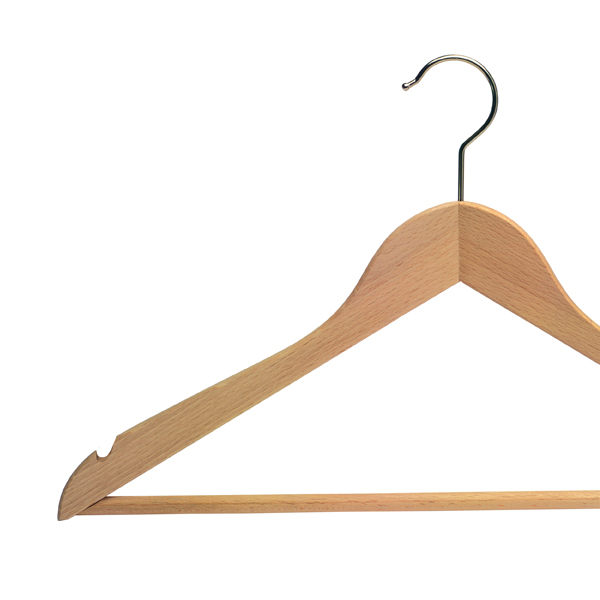 Trouser bar
Classic suspension, mounted on a top hanger, for presenting trousers half length. Almost 100% of this system is used to hang men's suits. The trouser bar is
nearly always covered with a tube of non-slip rubber. The tube is available in
different colors like transparent, black or white.
As an exclusive variant, the bar can also
be made with a coating of velvet or foam, but with a longer time of delivery.
Would you like your untreated natural wooden hanger equipped with a trouser
bar and the relation to nature should also be preserved in this detail?
We are able to supply a finely sanded raw wooded bar.

can be mounted everywhere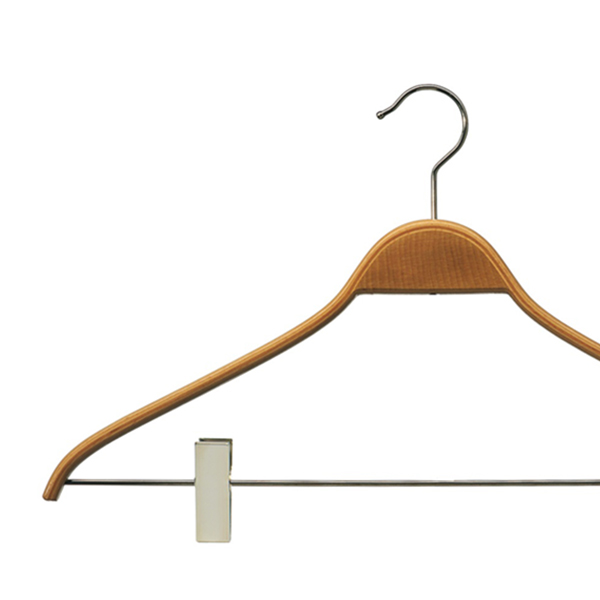 Clip Bar
Two metal clips, available in different sizes and surfaces, are mounted on a wire and infinitely adjustable. The clips are equipped with a soft rubber block inside,
for secure grip and avoiding damage to the clothing.
Optionally, we are able to supply additionally protective caps for the clips.
After mounting these soft rubber caps you can present pressure-sensitive
materials such as suede or fine velvet gently to the fabric.
Moving the clips on the wire is possible noiseless and without having scratches.
This easyhandling is achieved by small plastic bushes inside the clips.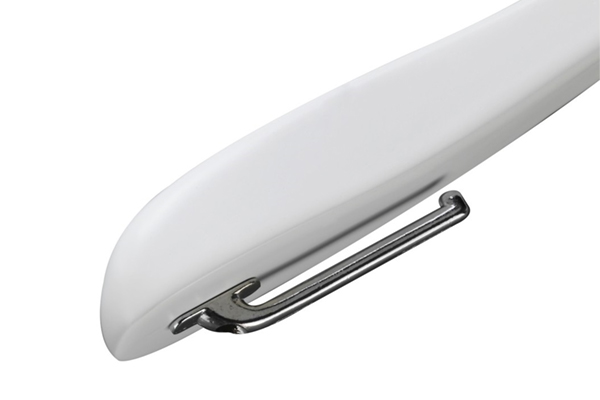 Skirt hooks
Designed for discrete mounting under the hanger. No annoying skirt notch on
the top of your hanger. Three different sizes are available, so from the small
skirt or pants loop through to wedding dresses, all objects are kept safe.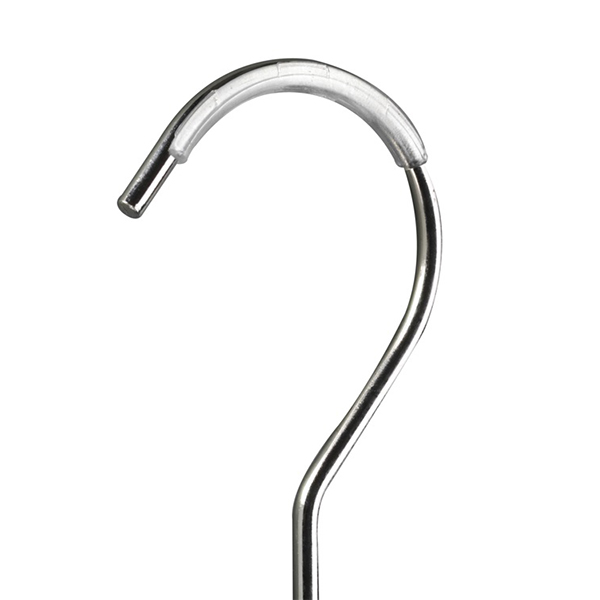 Scliss
A plastic half part which is clipped in the inside of the hook. If your cloth rails
have a rough surface, abrasion or mechanical damage is prevented by this accessory. The second advantage is a more easy gliding of the hangers on wood
or metal bars.